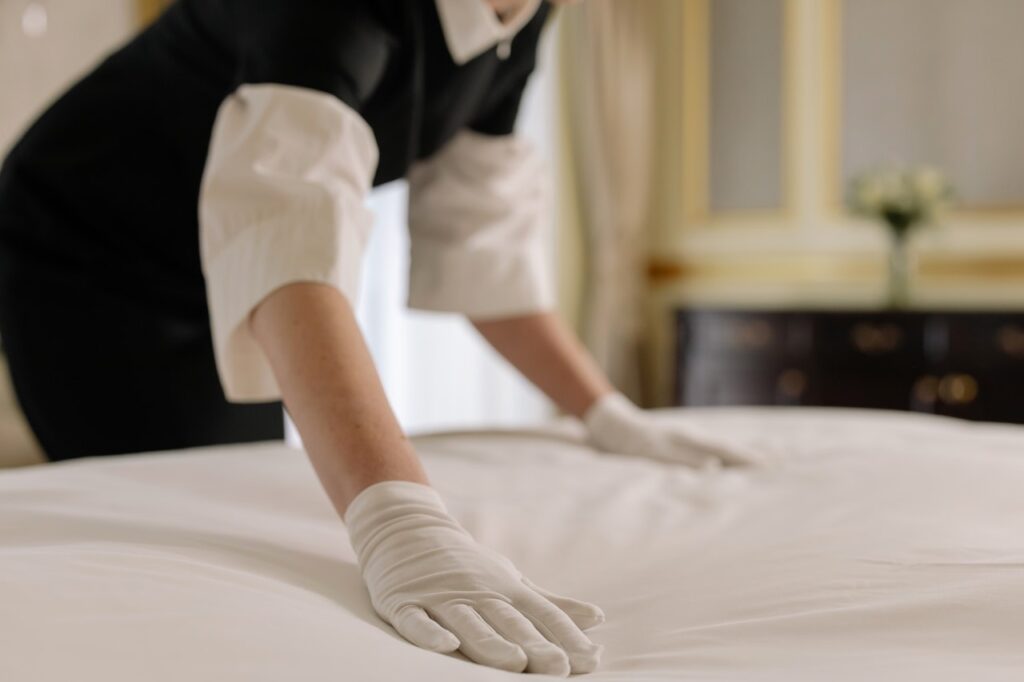 Many hotels introduced heightened hygiene and cleaning standards to help combat Covid-19 transmission. While daily housekeeping service was being eliminated, increased efforts were made to sanitize surfaces and touchpoints within your room. Some properties went so far as to place stickers across the threshold to indicate that the room had not been entered or contaminated after it was cleaned. All that sounds great, but how do you know if your hotel is actually following these cleaning protocols? According to USA Today Travel, there are a few things you should do to make sure your hotel room is really clean:
Give it the sniff test – When you enter the room take a deep inhale. It should smell clean. If it smells musty or like cigarette smoke, you may want to ask to be moved to a different room. Also, look around for evidence of dirt and dust, which could indicate the housekeeping team did not do a thorough cleaning between guests.
Inspect high-touch surfaces – You want to make sure high-touch objects, such as door handles, light switches, and the TV remote, are clean. When it doubt, wipe them down yourself using anti-bacterial wipes.
Read the reviews – Before you book, look at online reviews and pay close attention to what previous guests are saying about the hotel's cleanliness. Now is the time to look for properties with rave reviews for cleaning over other amenities (many of which might still be closed due to Covid-19). To be extra cautious, check out the Safe Travel Barometer. This site reviews travel companies based on COVID-19 safety protocols such as thermal screening, face mask requirements and the availability of hand sanitizers.
Before You Book
Before booking, travel experts suggest you check out the hotel's website to review its Covid cleaning protocols. If the list of cleaning procedures is not readily available, then you might want to book somewhere else. Industry insiders say it's also perfectly okay to call the hotel and ask about issues that might be of importance to you, such as face mask requirements and social distancing.
While hotels have stepped up their hygiene efforts, so have travelers. The article points out that do-it-yourself cleaning used to be reserved for germaphobes and guests with compromised immune systems, but nowadays many travelers are packing antibacterial wipes and disinfectant spray to ensure their personal safety.
Where do you fall on the sanitation spectrum? Are you comfortable staying in hotels or do you bring along your own cleaning kit? Message The Seniors Trust on Facebook, Twitter, or our contact form and let us know your thoughts. Feel free to share your suggestions on how to ensure your hotel room is clean before you unpack.